Men of War: Vietnam Game Guide
Men of War: Vietnam Game Guide

We love the smell of napalm in the morning!
This guide to Men of War: Vietnam contains a detailed description of all ten missions, divided into two campaigns – for North Vietnam and the USA. Each description represents not only an effective way to successfully complete the mission by performing all of the main objectives, but also specific guidelines to ensure the completing of all the secondary objectives.
Moreover, the description has been prepared with a view to completing the campaigns on hard difficulty level, which means getting almost all the achievements. However, some missions have to be completed several times on all three levels of difficulty (and these are three different achievements), but the methods listed in the guide include, of course, also lower levels of difficulty. The higher the level, the lower the accuracy and survivability of our soldiers.
Please note, however, that Men of War: Vietnam is a very unpredictable game and some events may take a slightly different way than it was presented in the description. Still, the ways to deal with all the problems you encounter in the game are universal. The description of the first mission is particularly noteworthy as it acquaints the players with some game basics. These basic game elements are so important that ignoring them may even prevent the player from game completion. That's why it is a good idea to read the description of the first mission, even if you already have completed it.
Descriptions have been enhanced with illustrations to better present how to perform certain tasks. Also, each mission has a map, to which the description refers – numbers in square brackets marked in blue indicate particular locations on the map that is connected with the mission. In addition, some more important names (such as the names of types of troops or soldiers) are marked in green.
Piotr "Ziuziek" Deja
About

Men of War: Vietnam Game Guide

Author : Piotr "Ziuziek" Deja for gamepressure.com

Guide contains :
38 pages, 193 images.
North Vietnamese
Last update : May 11, 2016,
visit North Vietnamese
USA
Last update : May 11, 2016,
visit USA
Use the comments below to submit your updates and corrections to this guide.
Hot Topics

of Men of War: Vietnam Game Guide
Men of War: Vietnam
Video Game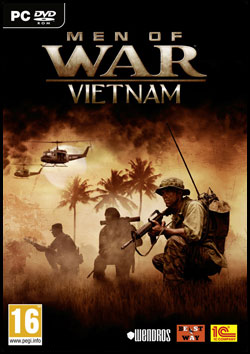 genre: Strategy
developer: Best Way
publisher: 1C / Cenega
platform: PC
rated: PEGI: Age 16+ / ESRB: Teen
Men of War: Vietnam is a new game in the critically acclaimed series. Two new, story-driven campaigns let you taste the explosive mix of the jungle, Hueys and rock-n-roll in early 1968.
The US campaign focuses on a team of elite special ops soldiers, and each one of them has a personality. The unit includes Sergeant John Merrill, machinegunner Jim Walsh, sniper Sonny Armstrong, grenade launcher operator Carl Dillan and combat engineer Bill Kirby. In some missions they can count only on themselves, while in the others they act together with regular US and South-Vietnamese troops.
Missions range from special operations to full scale battles.
Key features:
There are two sides in every story, so two new story-driven campaigns attempt to show the war from both sides
Breathtaking missions including an ambush on the Ho Chi Minh trail, a game of cat and mouse in the Mekong Delta, raids into Cambodia and Laos, bridge defense during the Tet offensive and more
New weapons and units: M-16, T-54, M-113, Patton III, M-60, AK-47, M-14, RPG-2, M-72 LAW, RPK and many more
Men of War: Vietnam PC version
System Requirements
Recommended: Core 2 Duo 2.33 GHz, 1 GB RAM (2 GB RAM – Vista/7), graphic card 256 MB (GeForce 8800 GT or better), 3 GB HDD, Windows XP/Vista/7