SOMA Guide

Terror from the deep. The guide for SOMA contains all the essential information required to complete the game.
The guide for SOMA contains all the essential information required to complete the game. Inside you will find a detailed walkthrough of the single player campaign, coupled with a large number of helpful screenshots, as well as hints associated with solving logical and environmental puzzles and consequences of certain choices present in the game. Additionally, the guide contains all the information about notes, tablets, writings, maps, audio diaries that might not be necessary to complete the game, but they certainly build the atmosphere and tell their own story. Additionally, the guide contains advice on gameplay mechanics like movement, using lighting and sounds or ways of dealing with specific types of enemies.
This guide contains also information concerning controls (with useful tips), system requirements of the PC version, as well as the list of achievements / trophies with information on how to get them. SOMA is yet another horror game developed by Frictional Games, the creators of such hit titles as Penumbra trilogy or extremely popular Amnesia: The Dark Descent. You play the game in first-person perspective as Simon Jarett who comes across an underwater station PATHOS-2. The game has really impressive graphics and extremely advanced physics engine, which allows you to manipulate most of the items in the game world. SOMA was released for PC and PS4.
The guide to SOMA game contains:
Jakub Bugielski (www.gamepressure.com)
About

SOMA Guide

Author : Jakub Bugielski for gamepressure.com

last update : May 5, 2016

Guide contains :
57 pages, 330 images.

Use the comments below to submit your updates and corrections to this guide.
Hot Topics

of SOMA Guide
SOMA
Video Game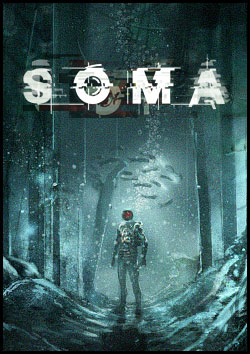 genre: Adventure
developer: Frictional Games
publisher: Frictional Games
platform: PC, PS4
SOMA is the next project from Frictional Games – a Swedish studio, best known for their survival horror titles, such as: Amnesia: The Dark Descent or the Penumbra series.
The action of the game takes place in a research facility called PATHOS-2; as a tragic result of failed experiments, machines have started taking on human traits and seized control over the complex for themselves, killing most of the staff members.
Unlike the previous Frictional Games productions, SOMA drifts away from the studio's standard scheme of avoiding danger and fleeing combat; instead, the developers have offered us the freedom of exploration of the title's open world and the focus on survival in an inhospitable environment. T
We experience the gameplay from the first person perspective; the overall visual quality has been significantly improved in comparison to the previous productions of the Frictional studio – the locations are much bigger and feature significantly more details, just like the models of monsters, which we encounter frequently on our journey.
SOMA PC version
System Requirements
Recommended: Intel Core i5 2.9 GHz, 8 GB RAM, graphic card 2 GB GeForce GTX 480/Radeon HD 8770 or better, 25 GB HDD, Windows 7 64-bit
Minimum: Intel Core i3 2.0 GHz, 4 GB RAM, graphic card 1 GB GeForce GTX 460M/Radeon HD 5770 or better, 25 GB HDD, Windows 7 64-bit
More About

SOMA