Spore Game Guide

How will you create the universe?
Beginning of the game
In the beginning you have to choose difficulty level and what kind of food your cell would be able to eat – plants or maybe meat? You can also make some changes in it's appearance – but you can change it anytime later in the game.
When you're done – name your planet and let's go.
Rules of the game
In the first level it's all about running for food, fighting other cells and finding additional parts of body. Try to devour plants/meat as much as you can – it stimulates your organism's development.
Fighting, moving and picking up items – you do it all using the mouse. Point the place you want to go and press the left button to just move there. If your cell on it's way finds something – it will automatically attack, eat or pick it up.
Creator
Additional parts for the creator are very important – you cannot finish this stage without them. You can find them inside other cells (attack them or look for their ripped parts) or inside the meteor parts. You can obviously stick every element found to your cell.
If you want to change something in your creature – it's time to start mating ritual. Call your partner and look for the sonic waves showing you it's location. Find him'her and you should turn on the creator.
About

Spore Game Guide

Author : Maciej "Sandro" Jalowiec for gamepressure.com

Translator : Maciej "Von Zay" Makula

last update : May 5, 2016

Guide contains :
33 pages, 108 images.

Use the comments below to submit your updates and corrections to this guide.
Hot Topics

of Spore Game Guide
Spore
Video Game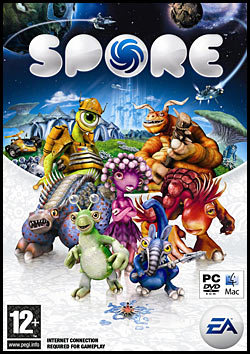 genre: Simulation
developer: Maxis
publisher: Electronic Arts
platform: PC
rated: Everyone 10+ / Pegi 12+
The Spore universe is made up of five phases with different challenges and goals. You may choose to start with the cell phase and nurture one species from its humble aquatic origins to its evolution as a sentient species. Or you may decide to start building tribes or civilisations on multiple planets. What you do with your universe is up to you.
Key features:
Sandbox Gameplay:
Create our own personal universe where you can evolve life, establish tribes, build civilisations and even sculpt entire worlds.
Evolutionary Gameplay:
World Creators:
Easy-to-use editors allow you to make everything from creatures and buildings to vehicles and spaceships.
Shared Content:
Spore PC version
System Requirements
Recommended: Pentium 4 2 GHz, 768 MB RAM, graphic card 128 MB (GeForce 6600 or better), 6 GB HDD, Windows XP/Vista