The Witness Game Guide & Walkthrough
The Witness Game Guide & Walkthrough

Solve them all! This guide for The Witness will provide you with all information necessary to complete this difficult logic game. Simple solutions to puzzles is not the only thing that you will find here.
This guide for The Witness will provide you with all information necessary to complete this difficult logic game. Simple solutions to puzzles is not the only thing that you will find here. Predominantly, this guide includes descriptions of all the rules that govern individual puzzles, thanks to which you will be able to find a solution for the majority of them, without pondering on the rules. Of course, even if some of the puzzles turn out to be too demanding, in spite of hints, you can find exact solutions for them in this guide. The text also provides exact whereabouts of audiologs hidden in the world of The Witness, thanks to which you learn about the mysterious storyline of the game. The Witness is an adventure game with sophisticated logic elements, developed by the author of Braid and his Number None studio. The game takes place on a large mysterious island where, for unknown reasons, all people disappeared suddenly. The game is about exploration of the extensive world, solving puzzles, as well as about finding various traces and clues thanks to which you will be able to solve mysteries of this world
Lukasz "Salantor" Pilarski
The Witness in a nutshell
The Witness is an adventure game with logic elements. The game is a spiritual successor to the Myst series. The game was developed by the creator of Braid and his studio, Number None.
The Witness is set on a large island. For some reason, all of its inhabitants have disappeared. The game focuses on exploring the island, solving puzzles and finding hints that will help you discover the secrets of this place.
The action is presented from the first-person perspective. The core of the game is to explore the island and solve puzzles. The Witness requires good perception and the ability to make connections. There are no tips here. You need to find and connect all pieces of a puzzle to solve it.
General tips
You are stuck but you want to solve a puzzle yourself? Below you can find a few tips that will help you do that.
Take a walk around the island. Do that after you leave the fort. Ignore all puzzles on your way and focus on locations. Visit each one of them and memorize their locations. Check the paths and locked shortcuts leading to them.
Choose which puzzles you want to solve first. You can explore the entire island. The puzzles can be solved in any order. In many cases, you will have to go back to a given puzzle due to its difficulty. It is possible that one of the puzzles near the Fort will be too difficult for you. You can also find a puzzle located on the opposite part of the island that will be a piece of cake. If you have problems with a certain puzzle, leave it for later. There is a chance that you will find the solution in another place.
Look around. The hints are around you. Pay attention to the shapes of items near a given puzzle. Look at panels from different angles and perspectives – from above, from a side, from behind, by standing behind another object, from up close and from a distance. Pay attention to the surroundings and look for similar objects. Sooner or later, you will find the solution.
The most important thing to keep in mind is a puzzle's location. If a puzzle is in ruins of a temple of the sun, there is a high chance that the sun will be the key. If a puzzle is in shadows, try to use them to find a solution. Try to match rocks of different size by standing in the right place etc. The majority of the hints are near a puzzle.
Pay attention to where you are standing. You can solve a puzzle only when its panel isn't obstructed by anything. You can't draw a line through obstacles or outside the screen. In other words, you need to stand in front of a panel throughout the entire process of solving a puzzle (some of them will require you to stand behind a panel or next to it).
Adjust your mouse's sensitivity. All puzzles require you to draw a line in a maze. High mouse sensitivity will lead to many mistakes, especially when a maze consists of diagonal lines.
If these tips aren't enough, check out the chapter dedicated to general hints.
Walkthrough
The entire island is divided into smaller locations. Each one of them has puzzles that require you to use certain environment elements or a perspective. Our guide has walkthroughs for all the locations.
Additional secrets
Some of the secrets are in places in-between locations or after fulfilling specific requirements.
The Witness PC system requirements
The Witness runs on a 3D engine, but the graphics are rather simplistic. Thanks to that, the game has low system requirements.
Minimum system requirements
OS: Windows 7 / 8.1 / 10
CPU: 1.8 GHz
RAM: 4 GB
GPU: DirectX 9.0 support – Intel HD 4000
HDD space: 4 GB
Recommended system requirements
OS: Windows 7 / 8.1 / 10
CPU: 2.4 GHz
RAM: 8 GB
GPU: supporting DirectX 10 – Nvidia GeForce 780
HDD space: 4 GB
About

The Witness Game Guide & Walkthrough

Author : Lukasz "Salantor" Pilarski for gamepressure.com

Translator : Slawomir "Szczur" Niejadlik, Marek Cendrzak

last update : May 5, 2016

Guide contains :
58 pages, 749 images.

Use the comments below to submit your updates and corrections to this guide.
Hot Topics

of The Witness Game Guide & Walkthrough
The Witness
Video Game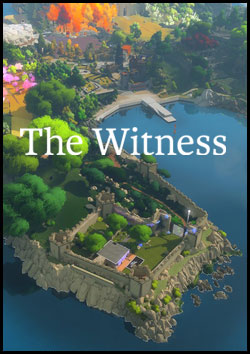 genre: Puzzle
developer: Thekla, Inc.
publisher: Thekla, Inc.
platform: PC, PS4
The Witness is a first-person adventure game that puts emphasis on solving puzzles, which is similar in this regard to the classic logic-adventure games series entitled Myst. It was created by independent studio Number None founded by Jonathan Blow, who previously developed one of the most interesting logic platform games in recent years – namely Braid, released in 2008.
The game is set on a pretty large island, which you can explore freely in search of puzzles to solve. The island is very mysterious and, despite many traces of someone's presence, seems completely deserted.
The Witness uses FPP view, and the gameplay focuses on exploration (on foot or by boat) of every nook and cranny of the island, finding various hints, and solving logic puzzles in order to lower a bridge, activate a mechanism, open a door, etc. As you explore the island, you have to prove to be remarkably patient, observant, and able to connect seemingly unrelated elements of the story. Many things here have a secret meaning, and the key symbols, hints and markings that let you push the plot forward are smartly hidden within the game's environment.
The Witness PC version
System Requirements
Recommended: Dual Core 2.4 GHz, 8 GB RAM, graphic card 3 GB GeForce GTX 780 or better, 4 GB HDD, Windows 7
Minimum: Dual Core 1.8 GHz, 4 GB RAM, graphic card Intel HD 4000 or better, 4 GB HDD, Windows 7
More About

The Witness