Tom Clancy's Rainbow Six: Vegas 2 Game Guide & Walkthrough
Tom Clancy's Rainbow Six: Vegas 2 Game Guide & Walkthrough

Welcome to the unofficial guide to "Tom Clancy's Rainbow Six Vegas 2" PC video game. This guide consists mostly of a very detailed walkthrough of the singleplayer campaign of the game. You will have to complete seven large chapters in order to get to the ending. I've focused my efforts on explaining how to secure some of the crucial areas of the maps safely, as well how to fulfill received assignments. You'll also be presented with accurate screenshots to help you survive. As you'll probably notice, I've improved some of the screenshots with simple drawings, so you won't have any problems understanding what has to be done. The final section of my guide contains a lot of useful hints. These hints will explain basic rules of the game. You'll also find out more about collecting experience points in all three categories (Marksmanship, CQB and Assault). Have fun playing the game and using my guide. Good luck!
Stranger
About

Tom Clancy's Rainbow Six: Vegas 2 Game Guide & Walkthrough

Author : Jacek "Stranger" Halas for gamepressure.com

Guide contains :
83 pages, 509 images.
Walkthrough
Last update : May 11, 2016,
visit Walkthrough
Appendix
Last update : May 11, 2016,
visit Appendix
Use the comments below to submit your updates and corrections to this guide.
Hot Topics

of Tom Clancy's Rainbow Six: Vegas 2 Game Guide & Walkthrough
Tom Clancy's Rainbow Six Vegas 2
Video Game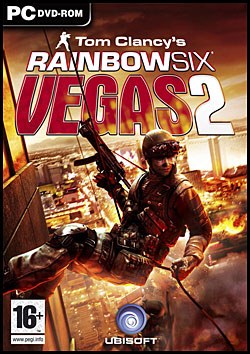 genre: Action
developer: Ubi Soft
publisher: Ubi Soft
platform: PC, XBOX360, PS3
rated: PEGI: 16+ / ESRB: Mature
Tom Clancy's Rainbow Six Vegas 2 is the last chance for gamers to rescue America's sexiest city from an escalating terrorist siege that will impose heart-pounding action from beginning to end. The best are back and this time winner takes all. The highly-anticipated sequel to the recipient of numerous awards, including 2006's Best First Person Shooter and Best Online Game, Tom Clancy's Rainbow Six Vegas 2 will push the top-selling franchise to new heights with new gameplay features and groundbreaking co-op and multiplayer modes.
– More Multiplayer – The highly acclaimed multiplayer mode in Tom Clancy's Rainbow Six Vegas has been upgraded to include 13 new maps with more intense face-offs, two new adversarial modes, more rewards, and easier access to matches using the improved and intuitive matchmaking system.
– Unprecedented Customizable Experience – Create your own identity that persists through both the single player and multiplayer modes and progresses along with you. Reap the benefits of your single player rewards in multiplayer and vice versa.
– Vastly Improved Co-op Mode – Turn single player mode into co-op mode at any time, just by jumping into the game. Now you and a friend can jump into a single player game and assist without any change to the story. The single player maps and storyline were created with co-op in mind, meaning every map has multiple entry points and the story is unaffected.
– Challenging AI – The AI is more challenging than ever. Now, the terrorists are equipped with thermal vision, night vision, and shields – not to mention a multitude of varying tactics – all of which are guaranteed to give you a new playing experience every time you go into battle. As you progress within the game, you'll be able to outsmart your enemies by taking advantage of intelligence opportunities, such as thermal scanning.
– New Weapons and Armor – Take down the terrorists more effectively using 11 new weapons. New camouflage, clothing and gear allow for the ultimate customizations.
– More Vegas – Sin City is back and bigger than before. Explore all new Vegas hot spots and the gritty back streets creating a visual experience that is as challenging as it is breathtaking.
Tom Clancy's Rainbow Six Vegas 2 PC version
System Requirements
Recommended: Core 2 Duo 2.4 GHz, 2 GB RAM, graphic card 256 MB (GeForce 8800 or better), 7 GB HDD, Windows XP SP2/Vista